All images, Content or other assets necessary for the development of the services will have to be supplied by the client. Alisha Infotech will not be responsible for the consequences in any circumstances.

All 3rd Party Business Names, Logo's, content, Trademarks and other details used in this site are the exclusive property of their respective owners and have been used here just to demonstrate our skill set and/or area of expertise.

Alisha Infotech doesn't hold any responsibility for the images, content or copy right issues displayed on any 3rd party website designed and developed. All the information are been provided by Client itself to beautify their websites.
All information like images, contents and other assets required for design and development of our clients website are been supplied by soft or hard copy the client itself.


Widely recognized technical and non-technical terms mentioned in this site are for information purpose only. The site wishes to clarify that it does not hold any proprietary ownership on these terminologies, until and unless specified.
Alisha Infotech reserves the right to discontinue or make changes in any section or web page of the website without any notification.


All disputes related to the website/company shall be dealt in the jurisdiction of Surat Court (Gujarat) only.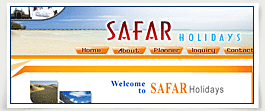 An Surat based company for Tours, Holiday Packages and many more...
MatiyaPatidarworldwide.com is an Patel Community website is an family tree web of members through out world.......